Vancouver BC Starts here: Shop, Dine, Fashion, Arts & Culture, Nightlife, Live & Work and Cheap Travel Deal
VANCOUVER STARTS FROM GASTOWN
Vancouver was born in Gastown. As old as Canada itself, the Neighborhood owes its start to Gassy Jaclk and the saloon he built on its shore. Today, Gastown is a refreshing mix of old and new, casual and cutting edge, playing host to visitors and providing a buzzing backdrop for urban Vancouverites. 
About Gastown
Armed with only a barrel of whisky and a penchant for long-winded tales, John 'Gassy Jack Deighton wandered through the wilderness of the Coast Salish lands in 1867 and set up his saloon on the south shores of Burrard Inlet. Where the whisky went, others soon followed and the loggers and mill-workers named the area Gastown to honour Jack for his generous pours. 
 As Vancouver grew out of this rough-and-tumble neighbourhood, Gastown transformed into the city's commercial and shipping hub, its brick warehouses and stone structures still standing today. Now a thriving and diverse urban Community, these character rich spaces are home to some of the country's most creative companies. 
 The neighborhood offers an internationally recognized mix of hip and heritage, with award Winning restaurants, distinctive boutiques, exclusive fashions, stunning design studios and Tenowned art galleries. And, it continues to be home to an eclectic group of residents… Just like it was in the old davs, Gastown is where Vancouver begins. 
How to get to Gastown
Designated a National Historic Site, Gastown is a diverse and exciting neighborhood that pays tribute to its heritage with an independent spirit. For more information about special events, dining experiences and business profiles.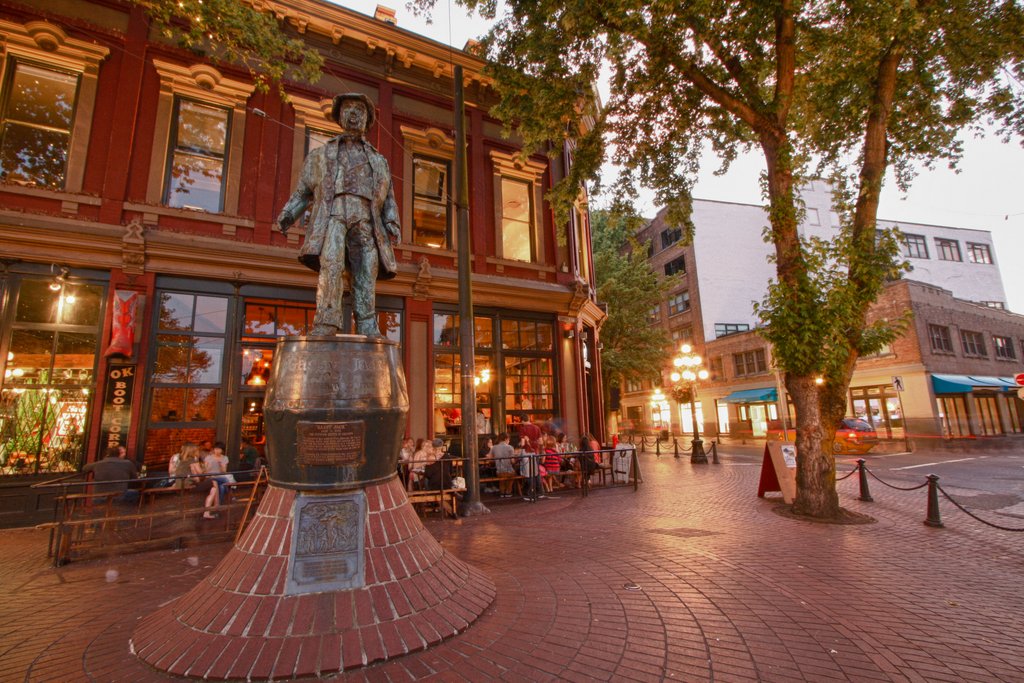 HOW TO GETTING TO GASTOWN
By Public Transit
 Skytrain (rapid transit system) and Canada Line (Skytrain's newest line), Seabus (ferry service from North Vancouver), West Coast Express and city buses from all areas of Vancouver and the lower mainland bring you to Gastown. For more information visit translink.bc.ca. 
By Car or Bike
 Gastown has over 2000 covered parking spaces in its secure parkades. You can also lock up your bike within certain parkades. 
By Cruise Ship Terminal
Trade & Convention Centre. Located just 2 blocks east of both the Cruise Ship Terminal and the Trade & Convention Centre, Gastown is an easy 5 minute walk from both locations. 
From curated boutiques to modern décor, Gastown brings the best of the city together in a twelve block area of concentrated style. As Vancouver's design district, full of independent and unique shops, you'll find everything from modern home furnishings, décor accents and unique gifts to tried-and-true souvenir stops. Iť's a shopping experience that satisfies. 
FASHION
Independent boutiques line cobblestone streets, bringing exclusive labels and local designers together to create a distinct shoppin destination. The style savvy make their way to Gastown for the latest looks, finding an unmatched selection of inspired designs for men and women. 
DINE
 Take some time to sit down and savor the moment. Restored brick and timber buildings play host to an eclectic mix of culinary fare. 
 Gastown has some of the best eateries in the city, so whether you're in the mood for something light, a hearty meal or a great spot to meet for drinks, there's a wide range of flavours to suit every taste. 
NIGHTLIFE
 In keeping with the tradition of Gassy Jacks bustling saloon, Gastown offers a vibrant and distinct after-dark scene. Live music filters onto the streets from speakeasy style clubs, while down the road, International DJ's mix sounds for local crowds. With a wide range of musical and entertainment styles, there's something for everyone and the promise that you'll be spinning into the early hours of the morning 
 GASTWON
ARTS & CULTURE
Creativity flows within Gastown's galleries, as classical and cutting-edge artists showcase their work. The neighborhood is home to some of the country's most renowned Inuit and native art, and a new generation of critically acclaimed contemporary artisans. With more galleries than most neighborhoods in Vancouver, Gastown is a culture center in the heart of the city. 
LIVE &WORK
Long a commercial hub, Gastown has developed into a diverse community of creative residents and businesses and is an award-winning leader in urban preservation and renewal. With designer lofts and live/work studios now occupying brick warehouses, Gastown is a 24-houir neighbourhood that offers a dynamic and authentic lifestyle unparalleled in the city. 
How To Find the Best Hotel Deal in Gastown and a Cheap Flight for your Trip
Find the best Gastown hotel and flight deal using Travelradar.com price search & comparison tool. Compare the same deal for a hotel room and the same flight deals available on hundreds of top Gastown hotel and Vancouver flight booking websites in less than a minute all in one search.
There are lots of hotel and flight booking websites out there. All of them claim to be the best for your Gastown flight and Gastown hotel stays. The truth is that no single website is going to offer you the best deal every time visit them. That is why we recommend using Travel Radar .com Gastown hotel and flight comparison service to search and compare Gastown hotels and flight deals on hundreds of other top booking websites.
You Liked Gastown Travel Guide? Find more to explore on Destination on Radar.